About once a year, a journalist "discovers" some memorabilia from the Nazi Holocaust being sold on ebay and it gets in to the news again.
Reuters
published an article on some items they found for sale, including what was presented by the vendor as a complete Auschwitz uniform worn by a Polish baker who perished in the Nazi death camp.
Ebay hastened to reply, in a statement, eBay said: "We are very sorry these items have been listed on eBay and we are removing them. We don't allow listings of this nature, and dedicate thousands of staff to policing our site and use the latest technology to detect items that shouldn't be for sale.
"We very much regret that we didn't live up to our own standards. We have made a donation to charity to reflect our concern," said the company, which receives a commission on items sold and charges vendors a listing fee.
Problem is, where do you draw the line? An eBay employee called me up yesterday to inform me that one of my items available for sale on their site is being removed in response to the media attention. The
item is a Haggadah published in 1943
, an edition made specifically for Refugees from the Holocaust. It took about 20 minutes on the phone convincing the eBay employee that the purpose of the sale of an item like this is in fact to promote awareness of the Holocaust and its effect even on the lives of the millions of people who managed to escape and spent the war years with no home, guests in a country that did not want them. Museums throughout the world display such items as a way to promote awareness of the Holocaust. If a Nazi sympathizer is willing to pay a small fortune of money for such things, perhaps making him part with some money is a punishment in its own.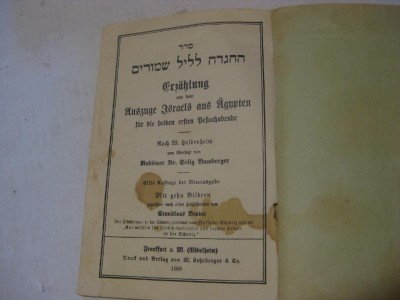 Note at foot of title-page: "Den Flüchtlingen in der Schweiz gewidmet vom Maccabi-Schweiz und der Kommission für jüdisch-kulturelle und soziale arbeit in der Schweiz." translated as "Dedicated to the refugees in Switzerland by the Maccabi-Switzerland and the Commission for Jewish cultural and social work in Switzerland."