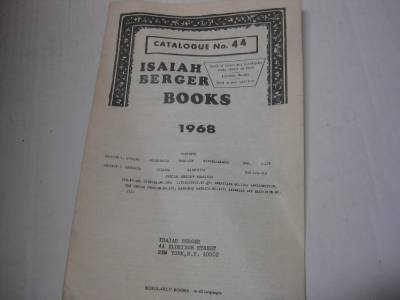 AN OLD CATALOG PUBLISHED BY ISAIAH BERGER
Show me your library and I'll tell you who you are. Even more so can be said of booksellers, as their libraries are easily culled from unwanted books and gifts they never needed. Their libraries tend to reflect their taste and interests very well.
I just chanced upon a book owned by a Jewish Bookseller of generations ago, Isaiah Berger, who sold his books in Brownsville, Brooklyn, New York. It would be a commercial suicide to try to sell books there now, but at it's prime, Brownsville had one of the largest Jewish communities in the world. The book itself, was The laughable stories by Bar Hebraeus, edited by Wallis Budge, with the Original Syriac and an English translation. Budge's book are in great demand now by collectors of Occult and Ancient Egyptian History, but I would doubt that more than a handful of people ever read the book. Berger took the time to leaves his notes throughout the book, pointing similarities to Jewish texts and pointing out Jewish Sources to the stories in the book, his notes being in English, Yiddish and Hebrew. I never had the pleasure of meeting Berger, but after seeing this book, I feel to be old friends of his.